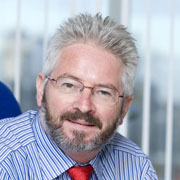 There's been a lot of talk recently about the public sector not having managers who know how to manage through hard times. Graham Holley, the chief executive of the Training and Development Agency for Schools, is one person who has seen both hard times and managed through a change of political administration.
Holley has been running the TDA since it was set up three years ago to create a career framework for everyone working in schools, not just teachers. He has more than 30 years' civil service experience, gained in three Whitehall departments and three agencies. He held several senior posts in the former Department for Education and Skills before becoming executive director and then chief executive of the TDA in February 2006.
The TDA, like other public bodies, now faces budget cuts. The agency's budget will be reduced by £10m next year and by a further £45m the following year. Holley's autonomy to make cuts has been further reduced by the government announcement that funding for initial teacher training will be protected. "That has reduced the amount of budget we can look at when bringing about reductions," notes Holley, who says the agency is still working through the implications of the cuts.
"We want to realign our activities more towards helping schools to build their own capacity, rather than hand over money for specific activities," he says.
One of the agency's main priorities over the past three years has been rolling out extended services in schools in England, including providing breakfast clubs and homework clubs for pupils.
"Having started off from nowhere three years ago, we now have more than 95% of schools with extended services," says Holley. "That job changes from now on. It is now about sustainability. We have learned a great deal - and schools and local authorities have learned with us."

There's no point in children turning up hungry, cold and wet and sitting them in a classroom and expecting them to learn. You have to address wellbeing
One of the biggest challenges that has faced the agency is how to prove that academic achievement is enhanced through workforce reform. "Our argument has always been that this is long term work," says Holley. "There's no point in children turning up hungry, cold and wet and sitting them in a classroom and expecting them to learn. You have to address wellbeing."
It was therefore something of a breakthrough for Holley and his team when this link was explicitly acknowledged. In January's Ofsted report [http://www.ofsted.gov.uk/Ofsted-home/Publications-and-research/Browse-all-by/Documents-by-type/Thematic-reports/Workforce-reform-in-schools-has-it-made-a-difference] into whether workforce reform in schools has made a difference, the watchdog said such reform has made a "considerable difference" to pupils' learning and that all members of the workforce in the most effective schools understood how they contributed to pupils' learning.
"It was a bit of an act of faith at the beginning, but now at least we have a report supporting our work on wider staff skills," comments Holley. "What has been key has been the quality of commitment to this agenda by leaders in schools. You couldn't expect people who are junior to teachers to set out their own sense of direction, but now all members of the workforce understand how they contribute to learning and there is a clearer understanding of how the roles fit together. We were very pleased to see that Ofsted said workforce reform has freed up a substantial amount of time for teachers. That is economic, efficient and the right thing to do."
Holley says he hopes his agency's work will help other parts of the public sector. "We ourselves learned from what was happening in workforce reform in the NHS and how we have implemented many reforms with success, we hope other professions, such as social work, will apply these lessons," he comments. The TDA is already working with the Children's Workforce Development Council on how it might reorganise its training and recruitment.
"This is about change management," says Holley. "It's always difficult. Here we are, a central government agency, telling 24,000 schools there is a better way to do things. We have to persuade them that it is in their own interest to embrace this. It's done by working with early adopters and demonstrating the results to other schools around. It is the schools themselves saying they are soaring up the league tables."
Holley has been in education for 30 years, but describes his present role as the best job he's ever done. But he acknowledges that there is some truth in the wider observation that there are few really senior managers in central government and arms' length bodies with the experience to help lead through tighter fiscal times and a fast-changing political environment, whether that is a change of government or, if Labour is re-elected, a change of ministers.
"There are not many people in the senior cadre who have been through a change of administration," he notes. "There were lots of people who may have been in departments - but not in positions of influence."