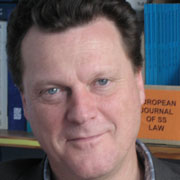 Not a day seems to go past without a story of another charity funding crisis and the problems facing the sector.

On these days, the old adage of 'united we stand - divided we fall' has never seemed more true. This is not to say that I have a rose-tinted view of the situation the sector currently finds itself in.
In the 29 years I've been working for charities we've rarely faced tougher times, despite Labour and the Conservatives both having gone on record as valuing the contribution that the sector makes to society. But I fear that if the sector doesn't look to what it can achieve by taking opportunities to work together then it is doomed to fail.
Enough of what I think- what are people in the sector saying about this issue?
We recently undertook a survey to examine the current challenges and possible solutions for the third sector. Our research, based on responses from 175 respondents from charities, revealed that two-thirds (63%) of third sector employees surveyed think that sharing is key to collaborative working within the sector, with sharing of ideas and expertise (20%) being the most important.
Today, a special session has been convened by London Advice Services Alliance (Lasa) on the subject of how the sector can survive the recession and implement more collaborative working.
Based on the research, the sector sees working together as important. But there are a number of obstacles which hinder charities from taking this forward. Nearly three in 10 (29%) think that lack of leadership is the key obstacle faced by the sector, while more than a quarter (26%) consider lack of communication among organisations to be the main hurdle.

The charity sector is operating in difficult times, just like everyone else. But, as our survey showed, the sector could (and should) cooperate more.
We need to recognise the importance and availability of support from our own sector, not least the services provided by second and third tier organisations. Our survey also revealed that more than half (54%) of charity workers currently depend on the support services of second and third tier organisations on a weekly basis, and only 3% of the respondents had never benefited from such assistance.

Times are tough in the sector, but let's not forget how we're all working together towards the same ends of helping those in need. We're achieving so much in managing the rapidly increasing demand for our services despite having depleted resources.

It's all too easy to become inwards facing in a crisis, but this is the very time when charities need to keep communicating with each other more and exploring how they can cooperate.
Charities have got to keep talking to each other about how we can tackle the problem of the lack of resources facing the sector. I believe that it is only by working closely together that we will be able to survive the recession- and beyond.
Andy Gregg is chief executive of Lasa