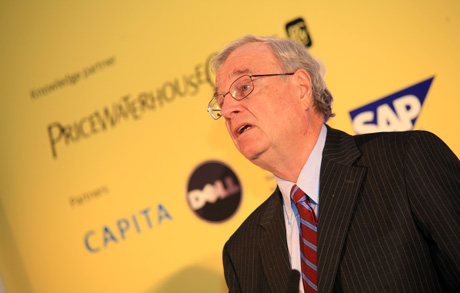 Tough-talking Canadian former prime minster Paul Martin opened this year's summit with a speech that goes straight to the core of public services and the challenges that lay ahead.
In 1995, as the Canada's finance minister, he set a budget, which proposed to cut the deficit by 3% of GDP in three years with a zero deficit in five years. In 1998, he said, the deficit had been
eliminated and there was actually a surplus.
So how did he do it?
When we took office, he said, spending was $120bn; three years later (1997) it had dropped to $108bn, lower than any time since 1949. As the country's finance minister he introduced a spending cut in absolute terms by over 10% and the public service was cut by 20%
At the time Canada's deficit was the worse in the G7, the country almost bankrupt. One of the reasons for this he said, was the country's deficit had risen exponentially over 25 years and government projections had been consistently wrong. Almost half of expenditure was going on servicing the national debt.
His budget was not to be short-term; it had to deal with the deficit once and for all and his first job was to ascertain the size of fiscal gap that lay ahead – and eliminate the difference between revenues and expenditure.
His first cabinet message to public servants, wrestling with expenditure, was to set the targets for what had to be cut.
With the prime minister's support, Martin allowed government departments to decide themselves. He met cabinet colleagues individually – gave them target cuts. Were they arbitrary, unreasonable? Perhaps, he said, but after 30 years there was no other way.
Individual targets could be appealed; but the government's bottom line was not up for negotiation. How department achieved cuts would be up to them.
In his first budget there were no promises and a tough set of measures. And the only way was to take the debate head on, but it was important to keep Canadians informed if they were to get the public onside. There was a 15-month of public consultations so Canadians knew what to expect.
For his plans to work it was important to get economic commentators onside, which made the budget credible with the public.
The problems governments have, he said, is to make sure the public know the sacrifice is worth it, and this takes openness and transparency; government has to be accountable.
A continuous focus on targets, measured regularly so the public could see improvements was the way forward. The government met its first target and the public took notice; the second target was tougher, but also met and Canadians could see their sacrifice was not in vain. More importantly they were participants in great national effort.
We succeeded, he said in not only getting the public onside but keeping them onside – which are two different things.
Deficit elimination must be seen to be for people's wellbeing, he said. They will not support arcane economic theory or simply because business calls for it.
Martin finished his speech with an impassioned plea for the case of social enterprise, one of the talking points in tomorrow's debate at the summit.
At a time when governments are fighting unprecedented deficits and national debt is crippling their ability to meet social needs, they had to think of new ways of achieving goals, he claimed.
It should be a marriage between left and right - compassionate social policy and business entrepreneurship. Here there was at least some good news for delegates – Martin believes the UK is a world leader in this area and he was particularly impressed with the Community Interest Companies and the ongoing legislation to help them meet the needs of improving social conditions by creating wealth and economic growth.