As the government prepares to publish its localism bill, Guardian Public is delighted to launch an exploration of the 'big society' and its potentially profound effect on citizens and public services, particularly in local government.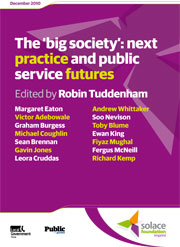 In the pamphlet, published in association with Solace Foundation Imprint, the publishing arm of the Society of Local Authority Chief Executives, a panel of distinguished contributors from local government and other organisations involved in delivering public services explore some of the key dimensions of the 'big society' idea and whether it really can stimulate new ways of thinking about public services and better ways to tackle some of our more deeply entrenched social challenges.
Our guest editor, Robin Tuddenham, director of safer and stronger communities for Calderdale council, says that although there has been much debate about the fuzziness of the 'big society' idea, it is clear that it "heralds a shift from the central to the local, transforming the relationship between the citizen and state'".
Tuddenham was also a speaker at a recent seminar on the 'big society' and local government hosted by our sister site for local government, where he argued strongly for the formation of local communities of interest and cited many examples in his own authority, including the Hebden Bridge Community Association.
The pamphlet includes contributions from Lord Adebowale, chief executive of Turning Point, and Fergus McNeill, professor of criminology and social work at the University of Glasgow, providing viewpoints from beyond local government. It ends with a call to action from Richard Kemp, a Liverpool city councillor and chair of the Local Government Association Liberal Democrat group.